If you told me that I could watch only one TV channel for the rest of my life, I would probably choose HGTV. I love interior design and even took a few classes many years ago. I thought I wanted to become an interior designer, but that was before I rediscovered how much I love to write.
Now that I'm getting settled into a new apartment, I'm having so much fun decorating and shopping for furniture. I love hunting through thrift stores and upcycling vintage finds. My favorite thing to collect is milkglass. There's something about all-white decorative pieces that I just love, which is probably one of the reasons why I love wearing black and white stripes or black and white polka dots.
I believe that just like the clothes you wear are a reflection of you, your home decor also communicates your personality and style. And when you're stuck trying to put an outfit together in the morning, find inspiration from your environment or browse through some of these photos of stylish interior design…
Mid-century is one of my favorite styles because of the clean, minimalistic lines, geometric designs, and neutral, earth-toned colors. I especially like mid-century style sofas such as the marshmallow sofa that was designed by George Nelson for Herman Miller.
If I were to translate mid-century design into a fashionable outfit, this is what it would like…
Whenever I get caught in a color rut like wearing the same color combinations over and over, a trip to the local home improvement store and browsing through the paint chips and brochures gives me inspiration to try something new.
During the fall/winter 2015 runway shows it became apparent that the 70's were making a comeback. In my mind I don't think the 70's ever really left. Even in home decor you'll often see 70's style patterns and art like this eclectic mix of mid-century furniture and colorful geometric designs in the pillows and wall art.
I'm very drawn to boho style because of its creative, relaxing vibe. I would probably say that my own personal decorating style is very boho because I love to mix and match.
Photo Credit: ELLE Decor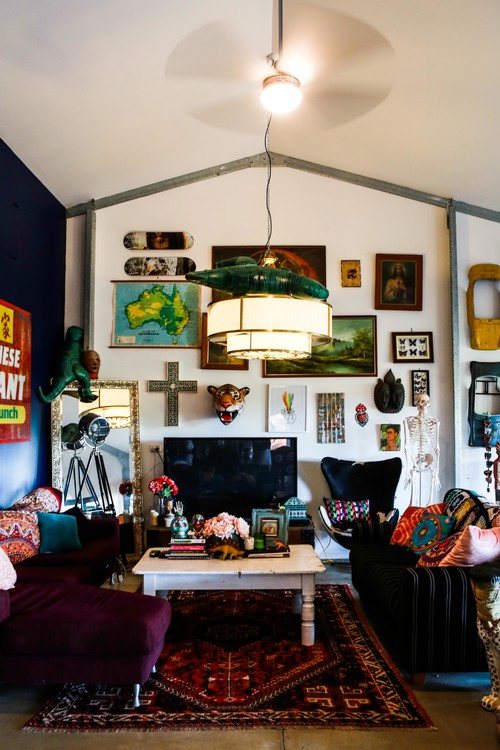 For me Bohemian fashion is a timeless, classic style. I love the free-flowing pieces and adventurous nature of boho-chic clothing. My favorite accessory is the floppy, wide-brimmed hat.
Do you find inspiration from home decor, and is your own home decor the same as your fashion style?