I am attracted to people who make this effort in knowing what suits them – they are individual and stylish

.
–Vivienne Westwood
As someone who didn't want to be a designer and spent half her career not particularly liking what she did, Vivienne Westwood probably fooled many of us. Given her uncanny ability to come up with unique designs, you would have thought she came out of the womb with fashion sketches in tow.

Westwood is known for her outrageously eccentric, what-was-she-thinking outfits, but she did deliver some very wearable pieces in her fall 2013 ready-to-wear collection. The only outfit I would wear in the photo above is the dress in the middle. If you're bold enough to wear the other two outfits, I applaud you.
Into The Gloss came up with a description of the fall runway show that gave me a chuckle:

So we've got two kind of characters going on: the Bowie-esque character and the other: her boyfriend's gone off to the Crusades, and she's a Medieval woman back at the castle, and she's been upstairs in the tower for far too long and she's a little bit dusty, a little bit dirty. She's quite innocent and sweet but she's obviously been left to decay for quite some time.
You're probably wondering why I consider Vivienne Westwood a fashion inspiration being that my style is somewhat conservative. First off, she's highly creative and confident in her designs. I think only very confident people could come out with such unique styles. They're basically saying, You know what, this is who I am and I don't care what you think. I'm just going to be me. Second, not only does Vivienne love reading and art (as I do), she stands up for what she believes in. It's just not all about fashion with her.
I do like that she tempers her eccentric, edgy, punk-rock designs with timeless pieces. For any UK readers, there's a good range of Vivienne Westwood pieces at Cruise Fashion. This white poplin shirt dress (£273.00) from the Red Label would be great for spring…
I like the Anglomania line because it's feminine and classic. The peep-toe ballet flats below are available at one of my favorite online retailers,
YOOX.com
.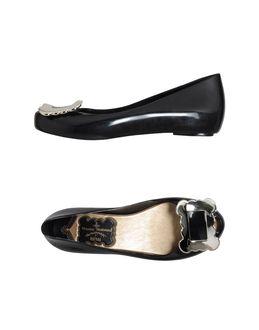 Whether or not you like Vivienne Westwood's sense of fashion, you have to respect her creative mind. She inspires me to take risks.
Photo Credit: Ian Gavin/Getty Images
Who is your favorite fashion designer and what about him/her inspires you?
======================
Make sure to subscribe via RSS or follow Beauty Is Within on Twitter and Facebook to stay updated!