"It's party season: Keep a red lipstick in your bag. Swipe it on after work, + your entire ensemble will suddenly seem so much more glam." –from @Space_NK on Twitter
When I was a teenager, my mom told me that wearing red lipstick or red nail polish made a young girl look like a "Jezebel". She only allowed me to wear neutral-colored makeup. I remember her coming home from work with a bag of Cover Girl makeup – brown eyeliner, brown blush, brown eyeshadow, and brown lipstick. It's no wonder that I stick to neutral makeup to this day!
Until this day, I still shy away from wearing red lipstick or nail polish because of what my mom told me. Besides, whenever I did try on red lipstick, it just didn't look right.
What I realize is that I wasn't choosing the right color for my skin tone. Here's an article if you want to learn the best red lip makeup for your skin tone.
How do you wear red lipstick the right way? Here is a video featuring the lipstick queen, Poppy King, sharing her tips:



Here is a video of MAC senior artist, Fatima, showing us how to get perfect red lips:
With the recent rainy, gloomy days here in Southern California, I wanted to brighten up my look. I decided to try out the Femme Rouge Velvet Crème Lipstick in Icon by Hourglass Cosmetics…
After I erased that memory of my mom saying that red lipstick is just for "Jezebels", I realized how nice it looks. I love the creamy texture of this lipstick, plus it's fragrance free and refillable.
Update 1/1/11: Here's another article of interest from Total Beauty…
Finding the right shade for your skin tone can be frustrating, so we're here to help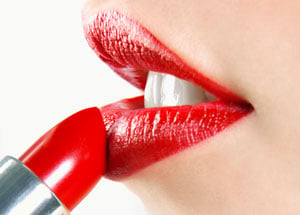 To shed light on which shade of red lipstick complements your unique skin tone, we consulted an expert to share application tips and product suggestions. See what she had to say …
What's your favorite color lipstick? Do you ever wear red lipstick?